During the 1st Online Training Session on "The Word Agenda and the SDGs", which was performed on 8/07/2022 by UUM and LBUS trainers, the following educational units were presented:
Unit 1: Origin and political process of global agenda/ Main agreements/ The consensual global ethics of SDGs
Unit 2: The 17 current SDGs and identification with local problems
Unit 3: Articulation of reference SDGs and identification with local problems
Unit 4: Country assessment of SDGs & major agencies
Unit 5: SDGs on the information agenda of each country
The 2nd Online Training Session on "Sustainability" was realized on 15/07/2022. During the course of this Session, the following learning topics were covered:
Unit 1: Uneven development vs. sustainable development.
Unit 2: Sustainability: Equity Economy+ Society+ Environment (E=E+S+E)
Unit 3: Economy and Sustainability in the Information Communication Sector
Unit 4: Social Justice
Unit 5: Environment
Unit 6: Equity= Economy + Society + Environment (E=E+S+E)/ Decision-making: Global ethics and journalistic ethics
The 3rd Online Training Session on "Journalism and Narrative Techniques" was carried out on 22/07/2022. Taught Units included:
Unit1: Journalism regulatory standards and media standards
Unit 2: Specialized investigative journalism procedure
Unit 3: Specialized documentation tracking and data verification: Resources
Unit 4: Investigative Journalism, Quality Journalism and Data Journalism
Unit 5: Digital narratives, new information and dissemination supports
Unit 6: Composition and dissemination techniques for SDGs: Workshop on creating factual writing and positioning of publications
The 4th Online Training Session, actualized on 29/07/2022 discussed Module's 4 "Practicum", otherwise the practical implementation of a project and the use of online tools to achieve proper visualization. During this session, the trainers demonstrated how to put the information taught in the previous sessions into practical use.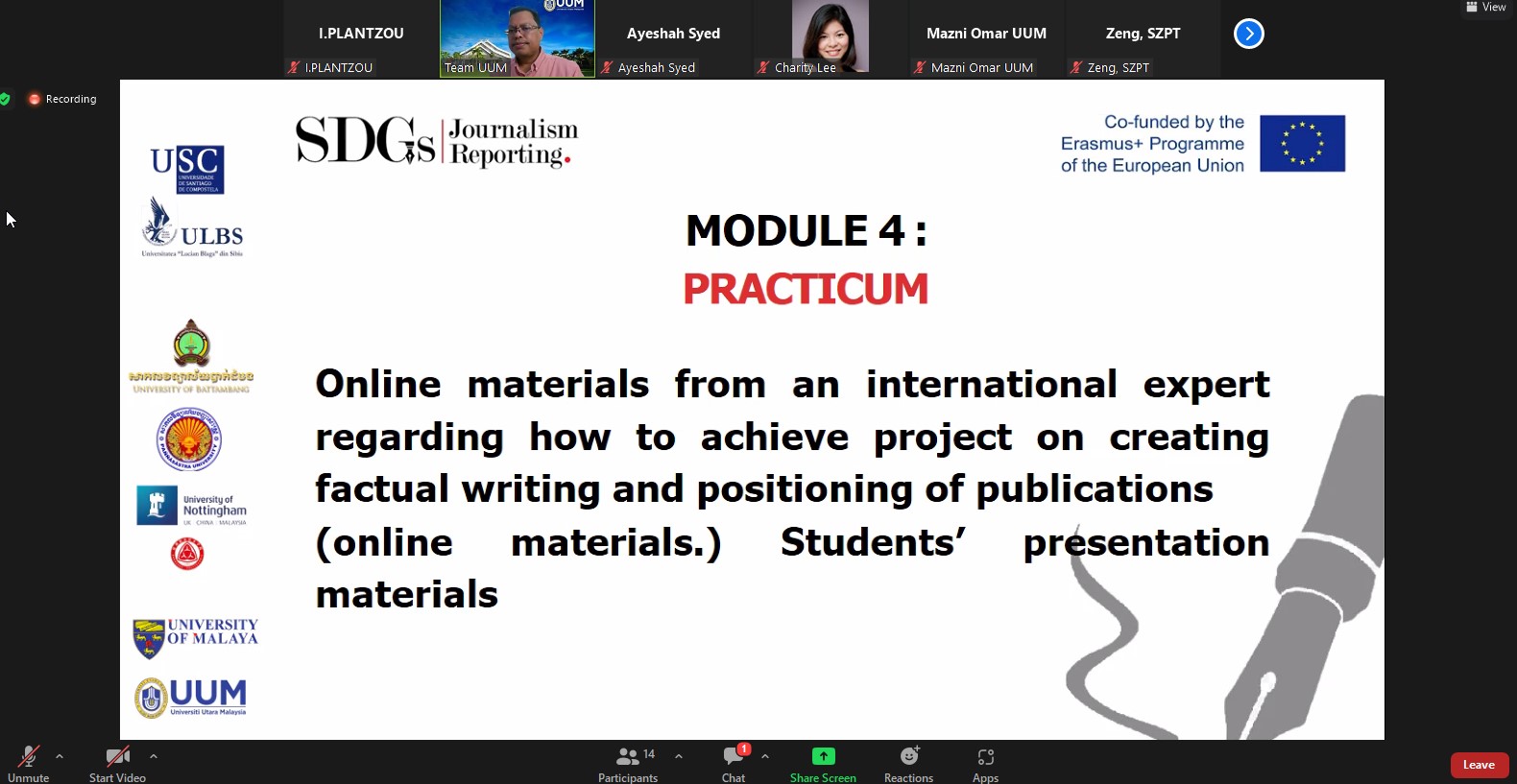 On the 5th of August 2022 Novel group, presented the developed digital learning platform with its particular features and functions. Relevant features include a section that supports synchronous learning, discussion forums, a messaging system and a question-and-answer section. It also supports the upload of learning courses and relevant educational material by all Higher Educational Institutions concerned. The platform provides a virtual learning environment for the course, and a forum of exchange of information among researchers and all relevant stakeholders. Therefore, it can be used as an information repository and a networking/ community building tool. Not only does it address students for the purpose of online training, but also professionals and experts in the field.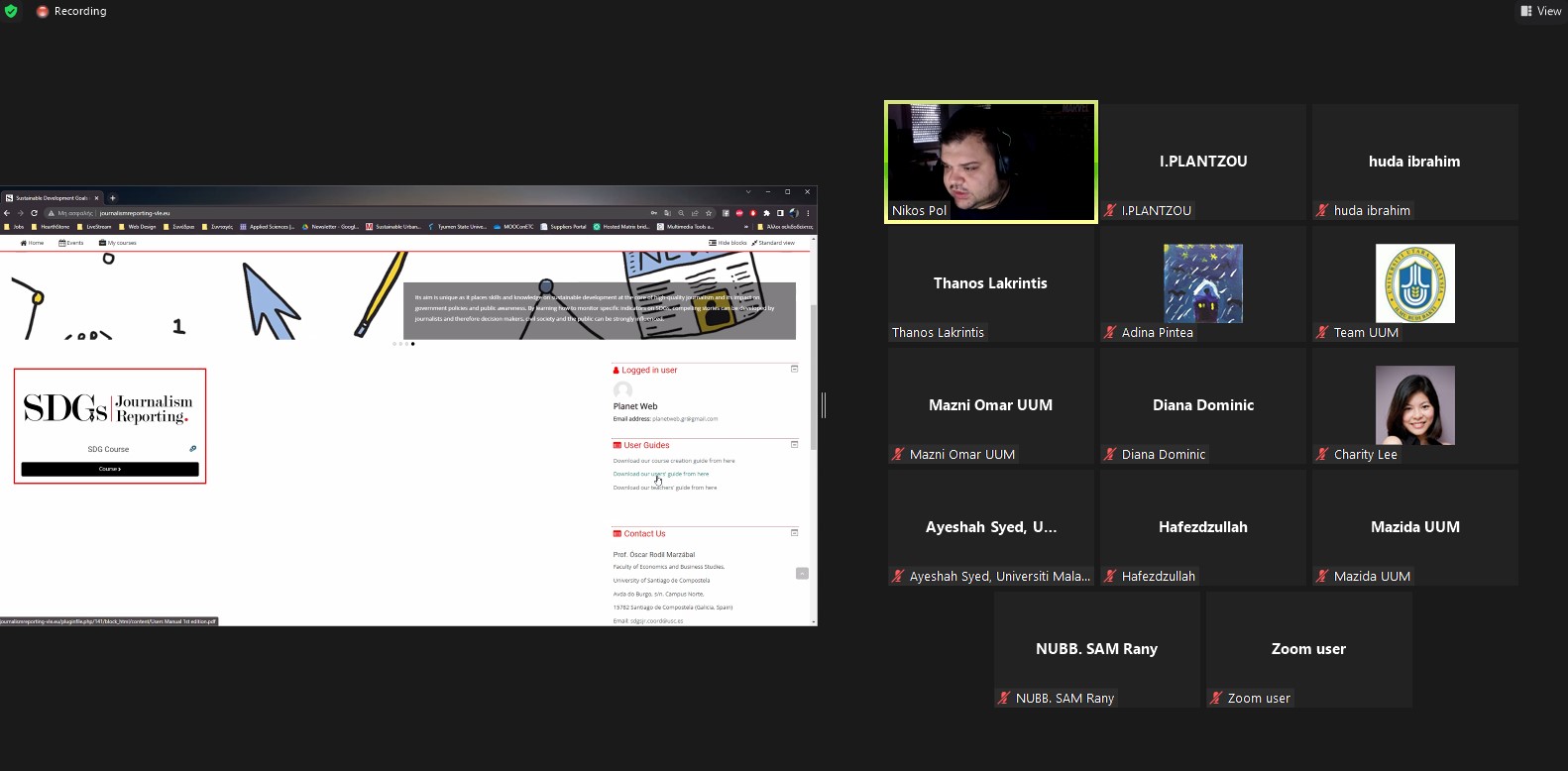 Finally, on the 8th of August 2022, The Royal University of Phnom Penh (RUPP) presented Module 5 entitled "Digital Learning and Innovative Pedagogical Tools". This course aimed at helping trainees develop knowledge and skills in educational technology in the context of journalism classrooms. It introduced trainees to effective technology platforms and enabled them to receive hands-on experience in crafting their own materials. The course contents included the following Educational-Tech tools:
Project-based learning and project management using the "Trello" tool.
"Flipgrid" video recording tool.
Classroom activities using the web-based student platform "Nearpod".
The "Edulastic" web-based platform designed to help teachers assess and monitor students.
Fun revisions using the "Baamboozle" tool.